Floating markets are quite fascinating, at the same time they are a reflection of the culture of the country which hosts them. Here we have collated worlds best floating markets that some of you may have visited. There are few of them that are quite new. Hence, simply to keep you up to date it has been arranged for you. Please read and learn as we keep our list going on.
Amsterdam Floating flower Market
This Flower market has been there since the year 1862 . These are Flower shops by the bank of the river. It has a beautiful history behind this place of trade. In the olden days flower growers  used to travel through the river Amstel and come to the city centre for selling their produce. In the present days they have a mini green house type of hut made of glass. It is quite commons here and as they are in the countryside. Holland's official name is 'The Kingdom of Netherlands' or you may simply called it as Netherlands just like any other person.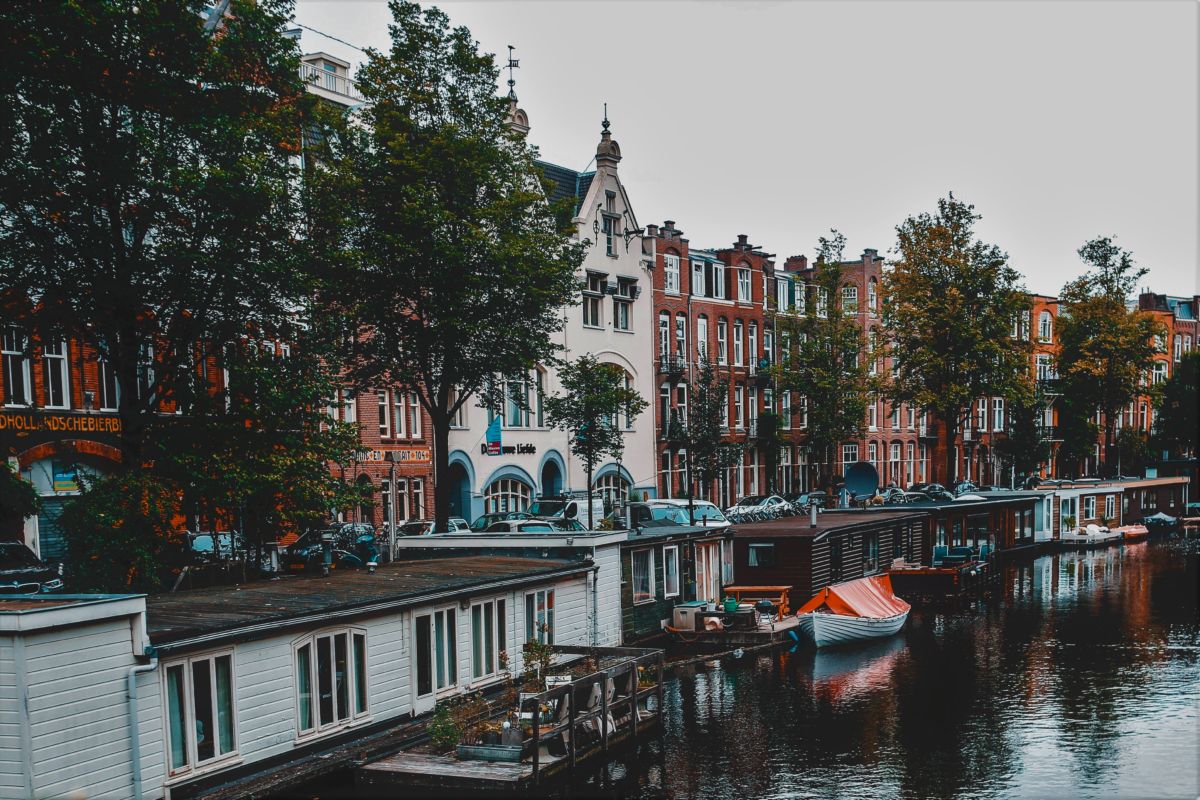 From Amsterdam Airport Shiphol to the Floating flower market distance is 27 mins at present by Public transport & By car its 20 mins*. Depending upon the your mode of transport, weather, events and traffic conditions your time would be more or less. Remember, that locals also call it as Bloemenmarkt. From Seeds in the packets to bulbs and even small potted flowering plants you may find them all there.
Hong Kong floating sea food market
This one is a sea food market, here the local boaters in Sai Kung village catch and sell their fresh sea food while on the boat. The following image shows how they sell and clean the fishes, squids, star fishes etc,.
Amazed to see River floating market at Sai Kung, Hong Kong. #landscapephotography #nature #Travel #travelblogger pic.twitter.com/KNlOay4OfM

— Poh Huay Suen (@Cattan2011) September 9, 2015
Swarupakathi, Barisal Floating market in Bangladesh
Selling at Gaokhali floating market as its also known as Boithakata floating market in pirojpur. It is located on the velua river. Here the farmers also come from nearby floating farming areas such as Bhishalkandi, Uzipur, Omorer Paar and others. Boithakata market has been operating since 1962 as per one of the journalists in that area named Moniruzzaman Nasim Ali, he mentioned in one of his interviews with Shykh Siraj a well known travel host of Bangladesh.
The People are quite close to their calm and quiet life. They sell their produce for a living, to many it is like life on waters. People from one part of the countries floating market are also aware of the other especially farmers that trade their produce at floating markets on these rivers. It is quite similar to the one in Vietnam's floating market too, the difference is language, traditions food they produce and the method of selling and buying.
Paddington Central's canal side market in London
UK doesn't have the traditional floating markets like other few countries mentioned here. However, since 2018 saw a great success of such a market. This made it even more exciting to see floating market happening in the 2019 too which took place between 14 th of August untill 18th of August. It happened at the canal side area in Paddington Central.  It's not an all year round market like few others around the world but this one has its own attractions.
It's not limited to flower or one particular type of items. Usually you may find this and many other attractions by the riverside and canals mostly in the summer season. If you are in London, note that you might need to carry a water bottle with you if you are traveling through the underground tubes.
After a long wait London now has free healthy drinking water tap fountains for anyone to refill their bottles.  For more information on the dates of this floating market you can visit : https://www.paddingtoncentral.com/event
Patuli Floating market in Calcutta in India
This market has opened in Calcutta area of India. It has around 114 boats and 280 shops it has a variety of items bought and sold there. Items such as food grains, fish, meat, vegetables and even shoe stalls on a boat itself. This market has also started to operate in the recent years and inspired by the floating markets of Bangkok.
It is becoming popular slowly to attract more visitors too. You Tubers have also started to visit this place slowly and because of the social channels it has especially started to gain a quick momentum. Whether it  increases in popularity or goes down, will depend upon its operators. We will keep giving updates as we go along.
Some breathtaking pictures of newly-inaugurated floating market in Patuli, #Kolkata >> https://t.co/mbVPVd0m8R pic.twitter.com/IXZbX3lJgJ

— Agnivo Niyogi (অগ্নিভ নিয়োগী) (@Aagan86) January 29, 2018
Dal Lake vegetable market in Jammu and Kashmir
There is an old classical saying on Kashmir in the Indian sub continent that "If there is a Heaven on earth it is here, it is here". With a lot of news headlines and a conflict areas it still has a beauty which captivates you through out. The lake is quite a well known place in the India.
An early morning shikara ride on the Dal Lake took us to the floating market in Srinagar. A unique experience, I watched the buy and sell of vegetables by the vendors in the wee hours of the morning. Read more at https://t.co/nk09gc7NkW pic.twitter.com/3gLiKph5wo

— The General's Daughter (@dibbi18) June 3, 2018
Borneo market in Indonesia
This market was quite difficult to find even though its one of the largest floating markets in the Country. This place is located in Banjarmasin in Kalimantan, Indonesia.  The picture below is an image grab from the video by AOP to watch the entire video please visit her channel. You can see the lady with a traditional fishermen hat and fruits in the boat. If at all you wish to travel here, the best thing is also to get in touch with people who know this place.
In case you do not know any locals then you can even ask the Youtubers who have already visited the place. This could be one of the best things you could do. This way they can share their experience to a certain extent and you could also get an idea on how it could be as a tourist to this place.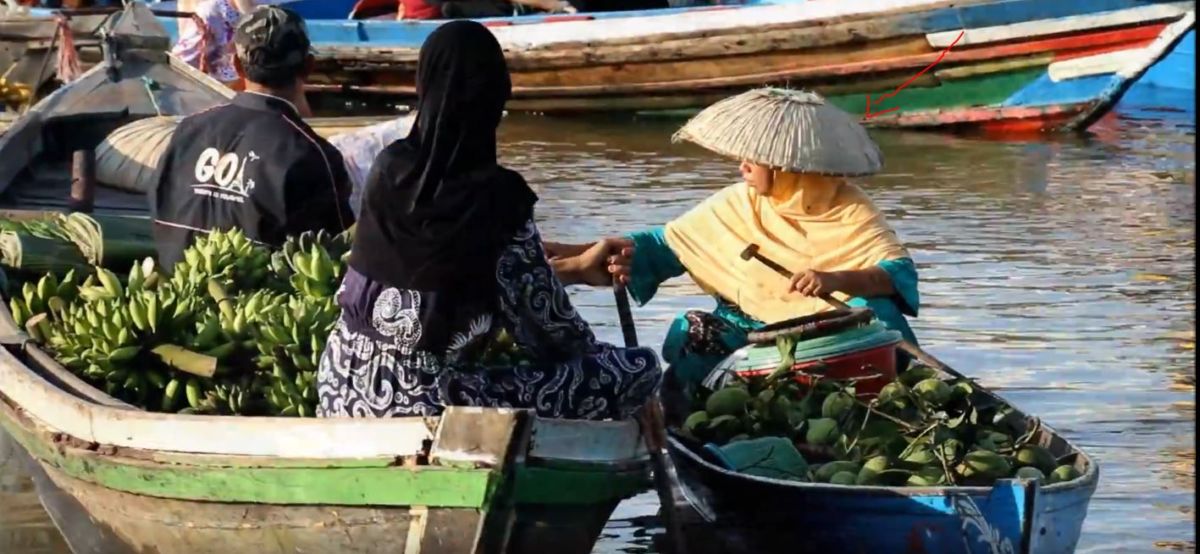 Image Grab: You Tube/ AOP – AndreasOttProjects
Thailand is the king of Floating markets
Although there are plenty of videos online there isn't much that states the numbers on how many floating markets exactly are there in Thailand. There may be the case that one market may also be pretty much known by the other name. Nevertheless, there are 10 floating markets that we found out of which some may not have been even known by the people due to them being not very popular among the tourists.
Pattaya market
Damnoen saduak floating market

 Taling chan floating market

 Wat sai floating market
Khlong lat mayom
Bang Nam Phueng Floating Market  or (ตลาดน้ำบางน้ำผึ้ง)
Kwan-Riam Floating market
 Hatyai market
 Amphawa Floating Market

 Bang Flee Floating market
Tha kha Floating market
Bangkhla
Bangnoi
Bang Nok Kwaek
Muang Boran
Koh Kret Island Floating Market
Kwam Riam Floating Market
Lam Phaya
Khlong Hae  Floating market
Hat Yai in Songkhla
Don Manora
Sam Phan Nam in Hua Hin District
Red Lotus in Bang Len District
Bang khu wiang used to be in rang Bak which is closed now. Kwan Riam Floating market has more than 2000 google reviews and the most recent by a local guide throws lit on how the market is. This indicated that the market is good with a legitimate stalls and pricing. It is also on a Saen Saep river . Also that its not much advertised hence it is less touristy.
The Muang Boran floating market is the part of the Ancient city.  Attractions like museums with statues and temple buildings around and food stalls takes you to a different part of the world altogether. It could look to some like a movie set of an old film.
Sitangkai, tawi tawi in Phillipines
This island being a part of the Philippines is beautiful with clean sea waters. It is also known as the Venice of the South. As you enter the area you will get the see the hoarding on the entrance that says this. You could get to see the boats and the houses all around. This is not just a Floating market but it is also a place where people live their life, it has a municipality and other local authorities too.
The fisherman sellers selling items by the bank of the sea as the house are stretched in the sea and the water is all around the area. Boats are widely used although it has some amazing views of the Green land. Palm trees and beautiful beach sand appears like its untouched by the huge amount of tourists.
Jeti Kelantam Floating market in Malaysia
This market is relatively new market. Information on its opening hours may be a bit of an issue. This is due to it being open only on a specific day. At present this is the information we have however, contacting them could be a better option before making any plans to reach there. It remains open on Saturdays however, if the days are changed during in between then you may not realize. Hence, try to figure out the opening days.
Pettah Floating Market of Sri Lanka
This market was opened in August of 2014.  The information about how the place was initially and now the situation floating market of Pettah near Bastian street may be a bit different. It is clearly visible that this market is not widely marketed abroad. Hence, if you visit Colombo in sri Lanka then do visit this place. Also send us an email about the current status of the market so we can keep our readers up to date.
Cambodia's Tonle sap lake floating village market
Tonle Sap is the largest lake in Cambodia. The market here is not a full fledged but there are necessary vegetable vendors that travel through the lake and sell. There are 3 floating villages and in those villages, selling of the items are done by the boats. You as a tourist would have to buy the tickets to visit these villages. From there they take you to the floating village. In these villages you may even find kids getting together and going by boat all by themselves.
There are schools, religious places and homes. Similar to Vietnam even here Mekong river passes through the country. Generally most tourists only get to see the what is normally shown to them. However, there are many other rivers that pass through Cambodia and Vietnam both.
The villagers and their life on floating villages in Cambodia
These have become tourist attractions and that's how even the locals sell snacks over the boats and earn their living along with their daily duties. You may find more women in this area of Kampong Phluk. On the Lake Tonle Sap there is other area which is Siem Reap which is where also you may find floating village just like the other two. There is also a Floating restaurant in the middle of the Tonle Sap lake known as Queen Tara.
Do visit the Lotus farm where they will show you the uses of their lotuses. The fiber from the stem of the lotuses are used to make silk as per the farmer. If you plan to sleep there then make sure you are prepared by the locals as there are cases of snake bites. Hence some precautions are taken.
Not to scare you by this but you could also get to see a crocodile farm where they source crocodile locally and make food & leather items to sell. Majority of the houses here are built on the tall wooden beams. This is due to the high tides the water level rises to a level where houses could sink if they are not on the strong and tall wooden beams.
Cain Rang floating fruit market in Vietnam
Cain Rang food market is on the Cần Thơ river .  From Fruits like Jack fruit to the Mangoes and from snacks to the soups, you could find them all here. This is the place where people eat. Close to the border of Cambodia and Vietnam is another Floating village which is one the river Bassac this place is known as the Da Phuoc floating market.
Ho chi minh city's floating market known as Bangkok's Floating market with local tour guides. Yes, its not Thailand but it is in Vietnam's Ho chi minh city too. If you are visiting there then there are plenty of tour guides that can help but its better if you have someone who is a Vietnamese friend. It's always a plus point if you have a local as your friend.
The conclusions
After researching on floating markets and the result shows that there are highest number of floating markets in Thailand then anywhere else in the world.