Pink Lakes are quite fascinating to see. Not because they appear mysteriously poisonous or appear to be like a boiling water. To some of us it may appear like a lake on some alien planet. There's a lot of explanations given on the colour of such lakes.
So the question- 'how many pink lakes are there around the world' made me to think. Hence, I started to do some research and found out quite a staggering result. Before we look at the number of different pink coloured lakes across the world, I needed to know what makes a lake pink in colour. In order to know this lets check out the video from Sci Show- He has explained this quite well. I have understood it, go ahead watch the video and let me know if you can understand the same way I did!
There are a lot of microbes present in the salt water lake which contribute in the colour that a pink lake has.
29 Pink Lakes are discovered around the world till now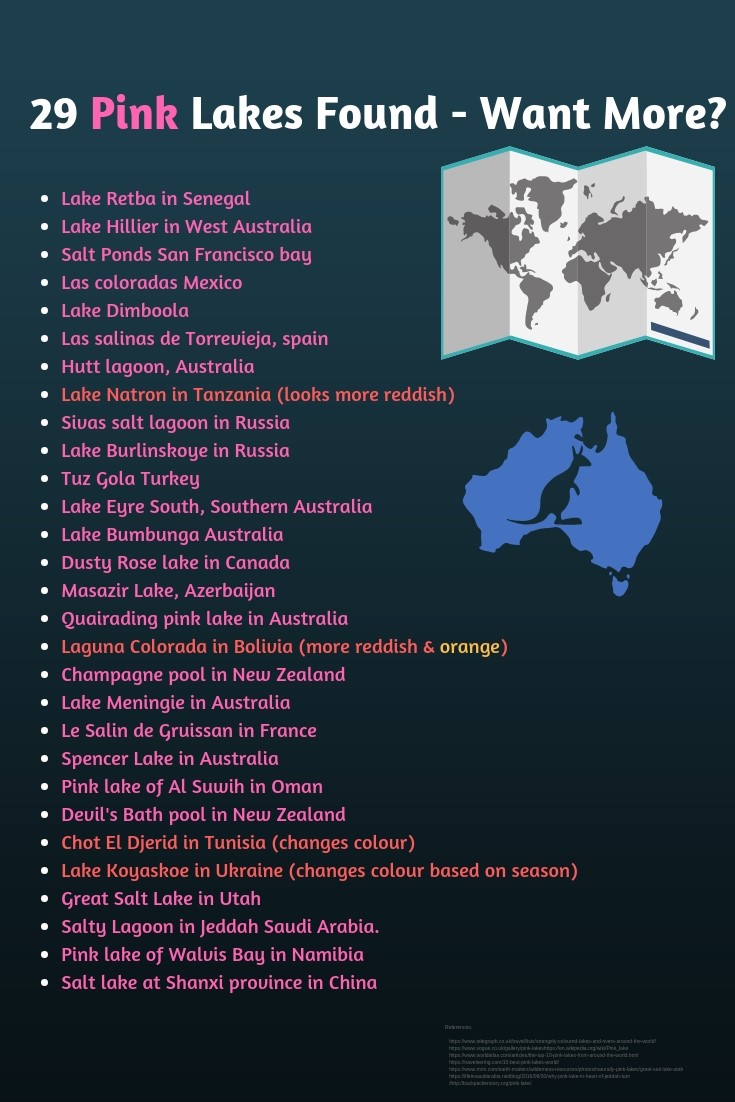 I have checked several pink lakes and most of them are popular tourist destinations.
Apart from being beautiful pink is there any use of that salty water?
It would be better to say salt is the resource, secondly they drive a decent amount of tourists. Especially for the lakes that remain pink for a long time or all year round, this helps the local communities.
Lake retba in Senegal
Lake Hillier in West Australia
Salt Ponds San Francisco bay
Las coloradas Mexico
Lake Dimboola
Las salinas de Torrevieja, spain
Hutt lagoon, Australia
Lake Natron in Tanzania (looks more reddish)
Sivas salt lagoon in Russia
Lake Burlinskoye in Russia
Tuz Gola Turkey
Lake Eyre South, Southern Australia
Lake Bumbunga Australia
Dusty Rose lake in Canada
Masazir Lake, Azerbaijan
Quairading pink lake in Australia
Laguna Colorada in Bolivia (more reddish & orange)
Champagne pool in New Zealand
Lake Meningie in Australia
Le Salin de Gruissan in France
Spencer Lake in Australia
Pink lake of Al Suwaih in Oman
Al Jazir Pink Lake of Oman
Devil's Bath pool in New Zealand
Chot El Djerid in Tunisia (changes colour)
Lake Koyaskoe in Ukraine (changes colour based on season)
Great Salt Lake in Utah
Salty Lagoon in Jeddah Saudi Arabia.
Pink lake of Walvis Bay in Namibia
Salt lake at Shanxi province in China
Lake Bursol in Russia
Ozero Kuchukskoye in Russia
Krasnovishnevoye Ozero in Russia (red cherry Lake)
Koryakovskoye Ozero in Kazakhstan
Bol. Azhbulat in Kazakhstan
Lonar Lake in India (reddish/pink)
Maharloo Lake in Iran
Pink lake of Ras al khaimah (UAE)
Pink lakes of Oman has a new addition
Earlier we had mentioned about Lake Suwaih and not the other one which is Al Jazir. After learning from the interview of a local resident by the Times of Oman, we understood that pink lakes were not new to this place as per the statement mentioned in their 15 October 2018 article that states  "Pink Lakes began to reappear".
Iran also has a lake that is Lake Urmia that turns red due to the high salt concentration in the lake bed & it is believed to turn red due to Dunaliella Salina. Last images of 2016 by NASA showed the lake turn red from green. However, the most recent google maps 2020 of the Lake area show the lake is drying up a lot.
A newly discovered Pink Lake in Ras al Khaimah
 It is located in the UAE (United Arab Emirates) in Ras Al Khaimah at Al Saraya islands.
You can visit here it is in Al Rams Beach area close to the Al rams Horse stable.
Noteworthy information is that this pink lake has been recently in the news in January 2021. It was discovered by a teenage student named Ammar Al Farsi in the UAE.
Australia has high number of pink salt lakes than anywhere in the world
Especially South Australia and Western Australia has these pink lakes. If you go through our list here itself, you could find 7 pink lakes in Australia. Is it a co incidence or some thing that needs to be researched. Is it a sign of some catastrophe or something else that could affect specific type of lands? We haven't got the answer yet.
There are no Fishing spots here
Please note that due to the high concentration of Salt in the lake  there has been no instance of fishing in these lakes found. Although there could be micro organisms  found in these lakes due to its ability to survive harsh conditions too.
Does this mean easy access to Salt production everywhere?
The answer is No! Reason for this is that we already have high salty water in the sea and if the lakes are going to start getting salty it is a cause of concern. This may be due to the climate change. This hasn't been established. I would like someone to write in the comment if there is any research that has linked salt lakes to the climate change phenomenon. Salinity level are high always in these ponds possibility of those lakes that change their colour may be that the levels could be fluctuating.
It has been also noticed that salt lakes also provide employment to people working in this industry of salt production Lake Retba in Senegal is a good example. Watch this video it gives a glimpse of the industry in Senegal. In Africa these salt lakes also provide  opportunity to their salt exports.
These workers can extract approximately one tonne of salt in about 6 to 7 hours in a day. In a pink lake of Senegal where the salt is removed is then carried by these men on to the shore where the salt that looks blackish. After leaving it in the open sun and on drying it then iodine is added on to it and then packaged on to sell it to the West African countries.
Reason for this colour is due to the bacteria present in the salt lake water
As they remain after those that can't survive the high salinity, they make the salt water look pink or reddish in colour. In a normal circumstance it is either the sunlight or volcanic land that give the water a specific colour. It could be due to the sunlight reflection on water at a particular time, however, this is not the case if you manage to see pink colour all the time.
Salt content in these lakes are high the same as dead sea and hence not all water bodies can survive in such a high saline water. The presence of algae called Dunaliella salina produces a pigment called carotenoid. It is the same that we see in carrots the one known as carotenes. The one found in these salt lakes are not the same as their intensity varies and even if so, their explanation hasn't been clarified whether they are the same or different.
In case of Lake Natron in Tanzania has a high Caustic concentration.
Algae and micro organisms can survive in difficult conditions too. Live science has also written an explanation on the reason of lake going pink.
The Salt lakes colour intensity
In some countries the pink colour changes based on a certain time of the year. However in some countries there colour appears to be really bright pink.
So we can say Pink hue or lighter red colours are mostly found to be making this list of shade of pink salt lakes called as pink lakes.
Although, as mentioned earlier it is only few that change their colour.
We Still DO NOT have any explanation on why is this phenomenon is increasing as the time passes.
How many pink lakes are there in the world?
The answer to this question will vary based on the time of the year when certain lakes go through a cycle of change in colour.
This could be due to the changes in the quantity or minerals & bacteria present in the water. There is still no explanation as yet, if climate change effect that has led a fast paced way to drought in certain countries is the culprit of this strange phenomenon.
If you know of any such studies done on pink lakes then please share it so it can help everyone.