Fish finders are not very popular nor traditionally used everywhere. It is recently that they've started to get more popular.  They are often used in the sea much and not in the river. From personal experience I haven't come across any angler that has used fish finder in the River Thames at least not while using fishing rods.
Can i use a fish finder in the river Thames ?
I have categorized the fish finders based on their usage, reviews, customer experience & testimonials.  By checking for the simple cheap but a good quality chosen fish finders in its range. you can use a low depth fish finder here as well. Please remember before you buy any such fish finders or go for  fishing in the UK that you need a fishing rod license.
You can use fish finders in a sea, river or a lake. It totally depends on how good and effective they are. You should check the customers reviews and the FAQs first before you buy any. This is only to make sure the items you buy would actually serve the purpose.
What is a transducer & do i need a transducer with a fish finder?
'Transducers are the lifeblood in fish finding systems. They throw sound waves in the water and then receives them. This allows the fish finders to see the images based on the sound waves that hit back and how they are received. It shows how deep or how shallow the water is . Just like a system in the blind animals where they make noise with its mouth and how the sound waves hit back they can see the place.  The transducers help the fish finders to read the signals and display them in the images'.
The shops can helps you with the best transducer that is suitable for the fish finder.
Mounting your transducer could be another task that is important. The performance of your fish finder is also based on how you transducer is placed. It's better to have a it placed correctly. It better that you buy a mounting bracket if you use a mounting transducer.  A skimmer transducer is the one that is used to mount outside or on the hull.
The placement task has to be carefully undertaken as you can knock off you transducer if not placed correctly and in a correct shape of a boat. Yes, that's right.  A right shape of your boat should be the key if you want good performance. Because if you're using a bass boat and trying to fit the transducer like for a 3d imaging all in one equipment. Then it's possible that you might damage it as it requires very low are under the hull to be place on.
There's a lot of transducers now a days.
Typical we can see the one with the down imaging and sonar.
The side imaging, down imaging and sonar are typically 3 in ones.
There's also the one that does 3d imaging.
I was going to mention the prices but I haven't done so here but majority of them are a real value for money here. Obviously, you need to realize the purpose and then buy your kind of fish finder that suits your boat.
The list of Top 15 fish finders this season is mentioned below please go through them and let me know if you have questions or you want me to get it answered by a specialist. I will try my best to provide you with the answer.
1.Deeper smart castable fish finder :
This one's quite useful for fisher man that go fishing with rods. It is also quite handy if you use if in a kayak. It's reviews on amazon UK, ebay and also the YouTube review videos have shown how useful it is actually for the rod fish enthusiasts.  Its better to have a separate rod to just hold the sonar ball so it can accurately map. It's cheap and seems to be value for money.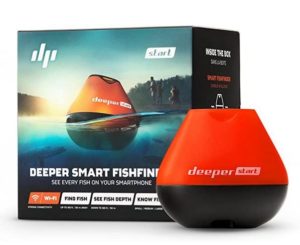 2. Deeper PRO PLUS Smart Sonar
Scans much deeper compared to many of its counterparts. It covers an astonishing 330 feet scanning reach. It comes with a rechargeable battery but you need to first check which ever online shop you're buying from.  This can be operated in both fresh water as well as salt waters.
It can be used with your ios device and even with Android. So you can check on your phone straight away.  It has been used by a lot of anglers and they seem to be satisfied with it. It's obvious the technology keeps getting better with every time.
3. Simrad is one of the top class fish finders
Simrad is quite well known brand and it does live up to the expectations (Simrad NSS7 Evo3, MFD/Sonar). It has a class in the displays that it provides. They have a bluetooth & wifi use. Its 7inch display is amazing because of its function and clarity. This unit uses a CHIRP technology as well. Simrad NSS& Evo3 also contains a GPS.
Simrad also has other models with a combo offer that comes with an external 4G radar as well. You need to be ready to loosen your wallet for that. Because they are quite impressive but price can be an issue for those of you who are looking for a good fish finder that is cheap and value for money.
4.
Lowrance HOOK2 4X - 4-inch Fish Finder
It is simple to use - Featuring auto-tuning sonar and phone-like menus, the Lowrance HOOK2 4x Fish Finder gives you more time to spend fishing and less time juggling settings.
WIDER SONAR Range: A wide-angle sonar cone is provided by the HOOK2 4x, giving you double the coverage of conventional fish finders.
Simple SETUP: On the transom, inside the hull, on the trolling motor or on the trolling engine, a single transducer can be mounted.
The hook series transducers are capable of giving down and side imaging. Lowrance store has more fish finders even with wider screens you can find them in their store.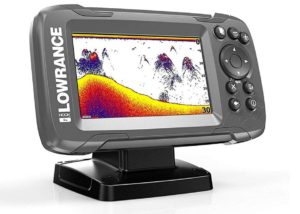 5. Lixada Portable Fish Detection Sonar Sensor Fishing Finder.

It's the same fish finder.  It uses a round transducer and it has a 45 degree beam angle. In its display you will be able to still see the grass , rocks & seaweeds.  They are good even if you want to use it for winter fishing and even ice fishing. The depth range it covers is upto 100 meters. However this uses a portable four AAA batteries. It also looks quite promising because of its endurance level which is -20degrees Celsius to 70degrees Celsius. So pretty much you are good to go even for an ice fishing during the winter season.
6. iBobber Wireless Fish Finder Portable Smart Sonar
The best part is its available on amazon, eBay and came even on Argos website. It uses Bluetooth connections. While checking its reach it didn't appear quite accurate but its a good one and people do like it. With this equipment you will need 2 AAA batteries. It has a 100 meters reach. Just because of the Bluetooth connection it seems not very powerful at a distance.
7. Lowrance Hook Reveal 7 Tripleshot
It is a 7 inch fish finder with triple shot transducer. Preloaded C-Map US Inland Mapping. Best thing is also its high detail maps of around 4000 US Inland lakes.
You can build custom contour maps with much greater detail with Genesis Live over any chart or GPS plotter, so that you can get to the fish quicker.
Triple shot transducer
TripleShot provides wide-angle high CHIRP sonar and high-resolution imagery of the fish-holding structure from SideScan and DownScan Imaging, ideal for anglers who like all their sonar from a single transducer.
Enjoy a crystal-clear view of your monitor, no matter the weather – even in direct sunshine – with superb resolution and daylight exposure of the HOOK Reveal SolarMAX display.
This and navionics chart card are compatible.
8.
Humminbird 410210-1 HELIX 5 CHIRP GPS G2 Fish finder
Humming bird as a very good capability to do a side scan and the images are quite detailed too. This one comes with a five inch colour display. With a maximum dept of 1500 feet that is 457.2 meters approx. This also has comes with a colour display and back lit. With its ultra bright led display you can see it even in a sunny day.
9. Carp Madness takes Lining Boot kit 2.4GHz Carbon with Fish finder RF15

It has a display 3d images screen and comes with a modern lipo battery. Comes with a 2.4 Ghz radio technology and 1000m range. This seems to be working different than all others.  It falls in the category of bait boat fish finders. They are unique ones like a toy boat but are effective. However, its better to check the FAQ's and the reviews before you decide on buying one.
10. Lowerence hds 7 gen3.
This one's is very easy to use with dual display on the same screen. There's different settings on the unit where you can even adjust the colour background that you would like. This helps you in the colour contrast aspect for you to see the fish and other things clearly. It also have a quality which allows users to track back your previous images too. This allows you to point out the place in case I missed it. With its broad screen its nice to see the images properly.
11. Garmin Echo 100
This is nice and portable. Having a 4 inch display screen its pretty clear to see the images. It is really easy to install the system. You can install it even in your kayak. In fact its good for a kayak fishing enthusiast. Its some how doesn't seems to have a colour display. Being in the UK I know that Garmin products are preferred by a lot of people and they are fairly good quality.
12. Garmin Striker 7SV with Transducer
7" GPS Fishfinder with Chirp Traditional. This again is one more fish finder from Garmin Striker . It has a bright seven inch display.  It is so good that it gives nearly photographic images.  You can also use built in Wifi  and pair up with ActiveCaptain app so you get notifications too. It is 1.7 pounds in weight which is less than a Kg (i.e 0.771107).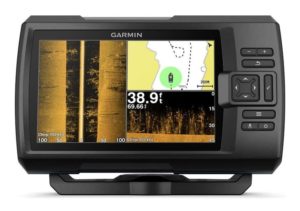 13. Eyoyo camera fish finder
Eyoyo comes with a 7inch display monitor which seems too big to me.  It's not a a very popular brand but i have added it on my list as its a camera fish finder and does not have a sonar. It comes with a 30m camera cable length. The temperatures it can work between is -20 degrees Celsius which is freezing cold and 60 degrees in Celsius. It has a capability to survive in harsh climate which is really good.
14. Lucky Sonar Smart Fish Finder Color Display Wireless Remote Control 300m/980ft
'It covers the depth of 300 ft which is approx 100 meters.  The sonar it covers is 45 degrees beam angle.'The battery used is 12V 1.2 A. It does require a power of 11 to 30V DC. With its handy design it doesn't appear too wide or too small. To me it seems like a fairly simple yet with some useful features. Its wireless range is 300 meters which is more than enough if you're not a very big fisherman.
15. Raymarine dragonfly series
I will talk about Raymarine dragon fly 7 pro sonar fish finder. This comes with the CHIRP technology as well which gives more detail and clarity to the images. It also comes with a wireless technology so you can see it on your phone too. It has the GPS  and the maps on it are really impressive too. You can download raymarine app and even watch the images on your ipad. The waterproofing is IPX7 that is fairly waterproof so nothing to worry about. Its sonar specifications also has depth range cover 600ft.
The specifications and explanations of these 15 fish finders I have mentioned above are simply a bit of brief glimpse on their qualities. You should try to use them and see how they work.
These fish finders have different purpose and range.
You may not be needing the most high tech fish finder sonar because its possible you may not be fishing in a really deep waters.
Not every fish finders you see here has all the qualities you may need it. Some have a capacity to just scan the bottom area and some scan the side ways. Do remember when using a fish finder you can get much detailed images if you don't go too fast or really slow. There are fish finders that claim they can even cover the area if you go at a high speed like Hook from Lowrance
Go at a steady pace its better because for fishing with your boat your wouldn't want to rush with that.
Here in this article i have mentioned the top and searchable fish finders that you may come across but its important to know their purpose. Do not get carried away by their looks or just the number of people that bought a particular fish finder.
If you wish to buy these fish finders then please click on any of our  affiliate links  you can>>>> CLICK HERE <<<too.
Share the article if you like it and if you don't like it let know how i can improve it to provide you with a better experience. Please comment if you want to see some thing more on a particular topic or you have a question.